Composers Calendars? 30 Hot Off the Press and Three Value Priced Composers Calendars
Composer calendars: Nowhere can you find more different composer calendars in this style than in the Renate Bach Publishing House Bach 4 You. And there are these composers calendars together with lots of fun. Firstly, you can choose a certain size, you can always choose between DIN A4 and DIN A3 and also DIN A2 (... check here, what's that in centimeters and in inches). Because what a pity it would be if the one exciting composer calendar of your choice – that is exactly your favorite – unfortunately would not be available in the desired size.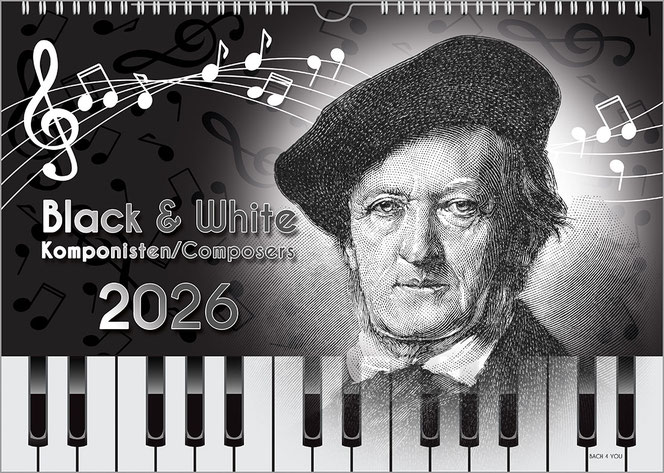 A composers calendar. It is one of 90 hot off the press calendars. It fits perfectly in a modern environment. In noble black and white. But there are also other black and white composers calendars in the Publishing House "Bach 4 You".
---
Well, you actually didn't want to read this much text? You wanted to explore composers calendars and nothing else but composers calendars? On pics? Plus, after the title pages the monthly pages? Okay. Please click on the shop button.
---
1. The Value Priced Composers Calendars
There are two kinds of calendars in the Publishing House – that is, inexpensive calendars and hot off the press calendars – and the inexpensive ones, they are one Bach calendar, three composers calendars and five music calendars. These are the nine. They were later "joined" by the Mozart Calendar and the Beethoven Calendar ... followed much later by the Luther calendar. Together 9 + 3 calendars. 
Why is that, and why are there only 9 + 3 favorable calendars? Calendars of any kind are a "very perishable commodity" because if they are not sold by February of the coming year, then they lose their complete value. On the other hand, a low printing price – especially if you are eager to pass on a low price – naturally appeals a lot. And so the publisher has decided – like all "real calendar publishers", of course, but Bach 4 You is really not something like that yet – to have some particularly beautiful calendars printed in a tiny edition. In all three sizes. And that's what we have done and can now offer them at a very special price. Just click on the shop button above and there you can see all calendars: sheet by sheet.
Also one of the value priced composers calendars. And again two artists were at work. Or actually: there were three. The one who originally portrayed the master. Then the one who painted him in the internet age again and finally the one who gave the work the cool watercolor style touch. It is a composers calendar not only for traditional music lovers, but also a composers calendar for cool, stylish music fans.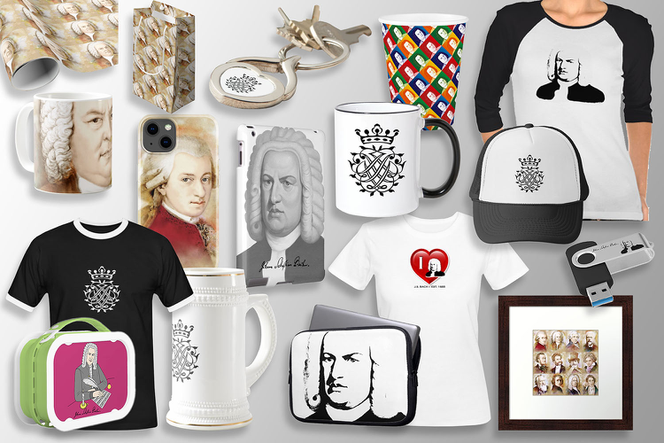 You prefer music calendars with a grid? With a calendrical for notes? Learn more here.
---
2. Composers Calendars and More Composers Calendars and All "Freshly Prepared" for You
Of course, the Publishing House Bach 4 You has not only one composers calendar, but many composers calendars. To be exact, there are 33 composers calendars. And we would like to introduce you to these many calendars. At first, each one was just a cool idea. Then we gathered the templates, had them painted, scanned originals, processed them further and finally "invented" a suitable calendar title. And today the calendar as a graphic element rounds off every calendar. Twelve – logically – similar and matching monthly pages together with the calendar title page make a fantastic gift to give to yourself. Or to friends, relatives, acquaintances and colleagues. To a musician, a music fan or a club mate who sings in your choir or plays in your orchestra.
You simply choose such a calendar in the shop, look at the monthly sheets beforehand really extensively and in great size and then order it. DIN A4 or DIN A3 or DIN A2 (... again here's the "translation" for you). Finally, check whether you might need it twice or want to give it away several times. Because maybe it is exactly the optimal "Secret Santa Gift" about which you otherwise have to think so long.
When we receive your order, we order the printing. From the hot off the press calendars. In the edition of one piece, of two pieces or with a really cool discount from 10 copies. And it doesn't even have to be the same calendars! So we let print. Just for you. In a family print shop. Really "old school", but with a lot of experience and expertise. Well over 100 years of tradition. About three weeks later, you'll receive the "good piece" – or just as many calendars as you ordered – and because everything works perfectly during printing, you'll look forward to the coming New Year just a little bit more. This is exactly how it works with most of the composers calendars and also with the 32 hot off the press Bach calendars. Only with the five inexpensive composers calendars among the 99 music calendars it is a little different, especially ... even more affordable.
Der Herr Mozart (... the Mr. Mozart). Yes, this composers calendar has only a few "hip parts". If you want the composers calendar with even fewer bells and whistles, the next one – right here and now – is recommended.
The composers calendar that gets by without any bells and whistles. Please also discover the monthly sheets. This can be done with one click, as usual, you already know where. Once you are there, please choose your "department" and then the monthly sheets are below the price information regarding every calendar. Here you get to the shop now.
---
33 Composers Calendars Are Music Calendars: A Combination of Value Priced and Hot off the Press Composers Calendars
Great composers calendars. So ... did we promise too much?
---
4. Choose From Over 1.2 Billion Variants: Your Composers Calendar ... No Kidding Now!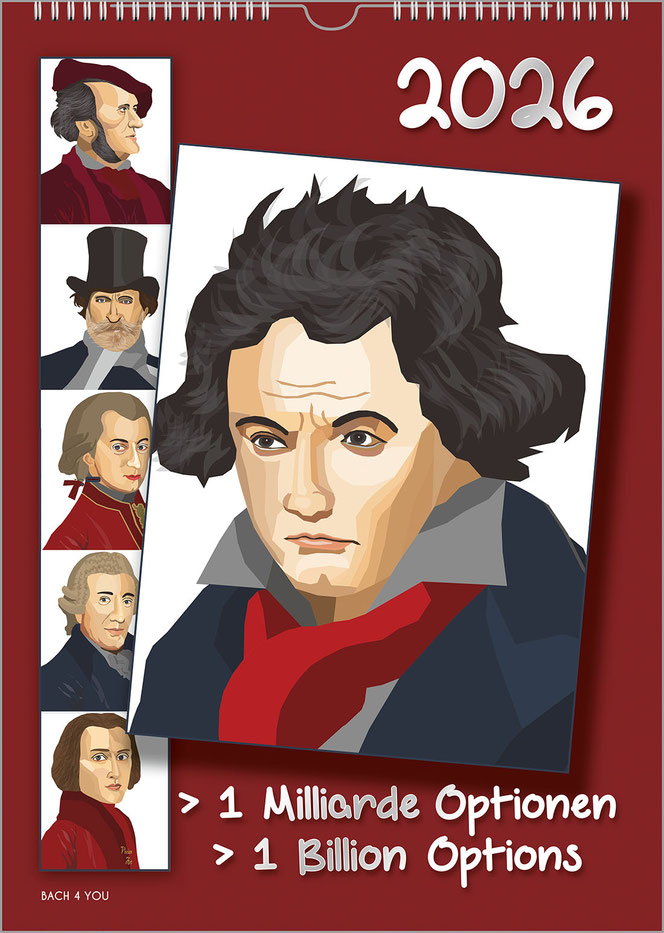 The composer calendar with the 1.251 billion variants. However: The calendar title page is always the same. And also, whether Mr. Beethoven "appears" in January and Mr. Verdi in October, unfortunately, we can not implement. Try ... is what we do, however. By the way, with this composers calendar you can also "filter out", according to the "exclusion method", those of the musicians that you, or also grandpa, explicitly do not like so much at all. Is that an idea? For your parents, grandparents or the musician in the family or among friends? Here you can get to the store.
First of all, we would like to point out again that you have not made a mistake:In fact, you could compile a whole 1,251,000,000 different composers calendars from 36 composers without repeating any in the collection.
Here's how it works: Think about who are your favorite composers? Or: Who does Grandpa Scott like to listen most, or your friends, or your neighbors? Decide – but only within the offer – for twelve of the experts and click to the contact form on the store website.  Make a note of your favorites and send the mail – electronically – to the Publisher. Unfortunately, we cannot supply the order in your calendar on request. We put ... for security ... your "gentlemen of choice" together, and you will receive an e-mail. And a short time later, we then also place your print order.
Of course, the whole thing must remain affordable, otherwise it spoils the joy with the calendar. And so, in addition to the price of the "very freshly prepared" composers calendar, only another € 10* (... in Dollars and more currencies?). Of course only once, even if you order ten copies of your desired calendar and "take" a discount for it. But the surprise for the recipients – about a calendar that probably never exists a second time – is enormous. Promised. To the shop.
---
5. Twelve Tone Poets of Our ( ! ) Choice
Now, however, it could be that a lower price is more important to you than your own selection, and basically it is also twelve great motifs that we ( ! ) have selected for you and no competition according to the motto "Who Is the Best". And that's why we finally decided in addition to put together for you a calendar with exactly those composers that we think inspire a lot of people and lovers of classical music. Here you can look at this selection of motifs and if the selection fits, then you save € 10* and it is a normal calendar fresh from the press.
That's right, it is available in two variants. Once we ( ! ) put together the experts for this composers calendar and the other option is reserved for you: You assemble your composers calendar yourself. However, the calendar cover is always the same. Here you can discover our complete selection of masters.
The composers calendar with the quotes and tributes regarding Bach. Gorgeous engravings are combined with twelve great statements about the theme "Bach's Music".  If that is not a cool offer. And because you – yes exactly you – perhaps don't find this Bach Tributes Calendar as cool as we do, here's an alternative composers calendar from the publisher "Bach 4 You".
May it also be experimental once? Matching the appropriate interior plus a good taste for excellent music, this composers calendar is really something special. In the right place in the right home, it is the composers calendar of all composer calendars (... that's what we called in in Germany, elsewhere it's the "mother of all composers calendars").
---
Much More Than Composers Calendars: The Publising House "Bach 4 You"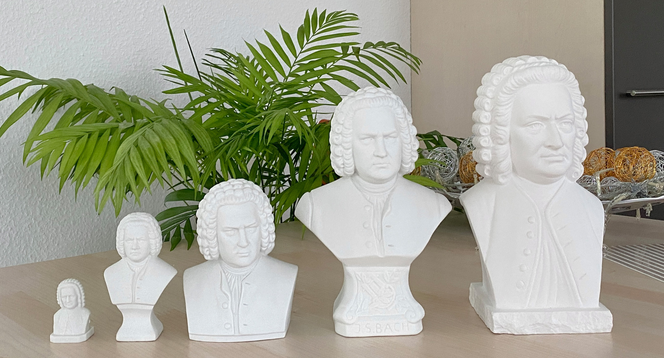 One of the 33 Bach calendars (... this one is for "mavericks") on the left and the Little Bach Figure on the right.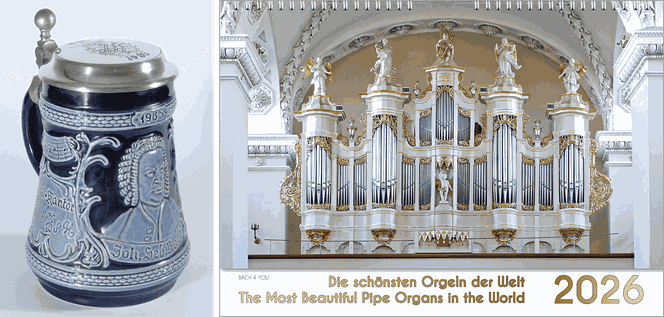 The Bach beer stein from the year 2000 and the 2024 Pipe Organ Calendar, a music calendar.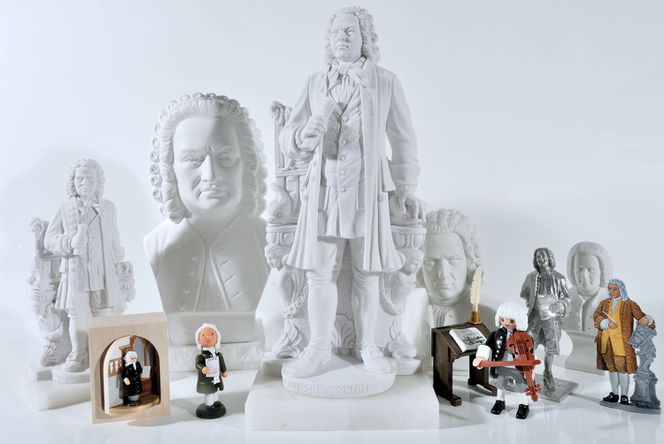 12 x Mozart, 12 x Beethoven. This year, next year.

12 x Luther. This year, next year.

Please support our Bach Mission … learn more.
* including VAT, plus S&H costs
---
Renate Bach Publishing "Bach 4 You" – Bildstrasse 25, 74223 Flein / Germany – Phone: +49 7131 576761 – info (at) bach4you.de